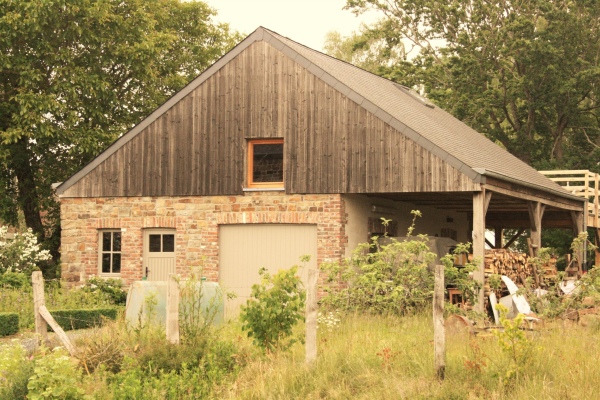 The Earth House
With three access gates and a parking for four cars.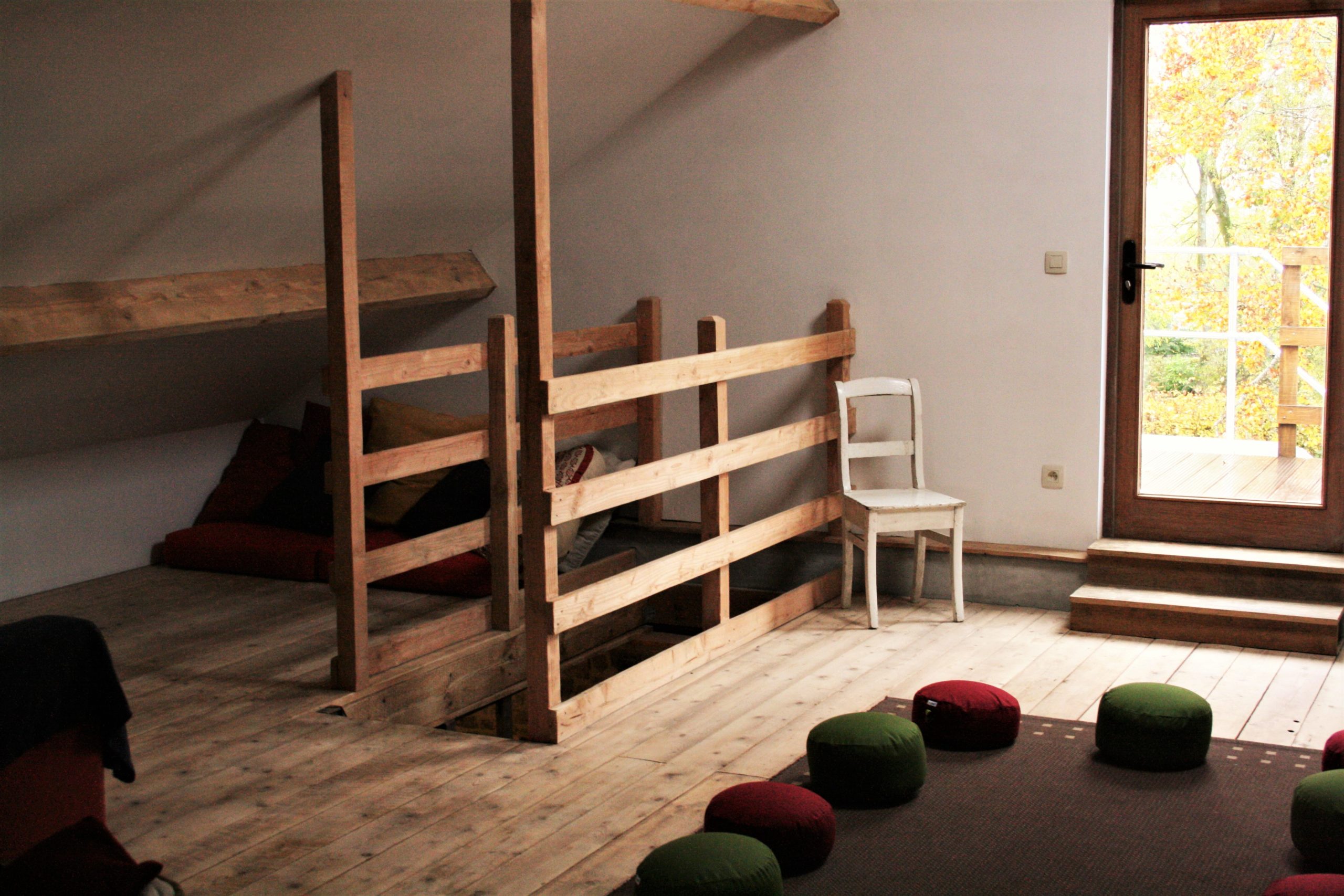 Workshop space
With folding chairs, meditation cushions, blankets,..
Living space
Multipurpose space that can be easily converted according to your needs and separated into two parts, with or without dormitory for 4-6 persons. Mattresses, cushions and sleeping blankets are provided.
Relaxing space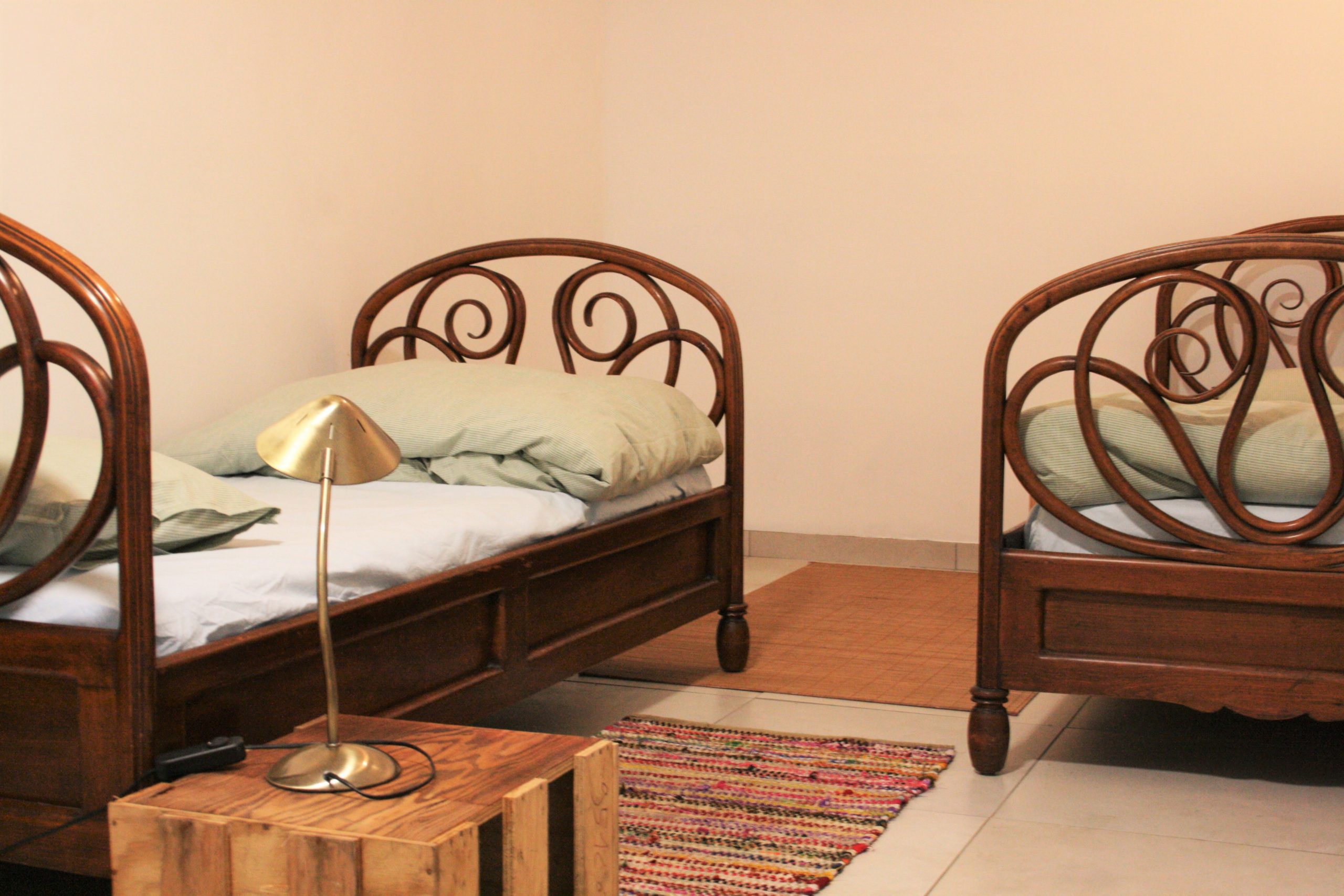 Bedroom for 2 persons
A spacious bedroom with two single beds (or a double boxspring bed for a couple). Possibility to sleep for 4-6 additional persons on the 2nd floor.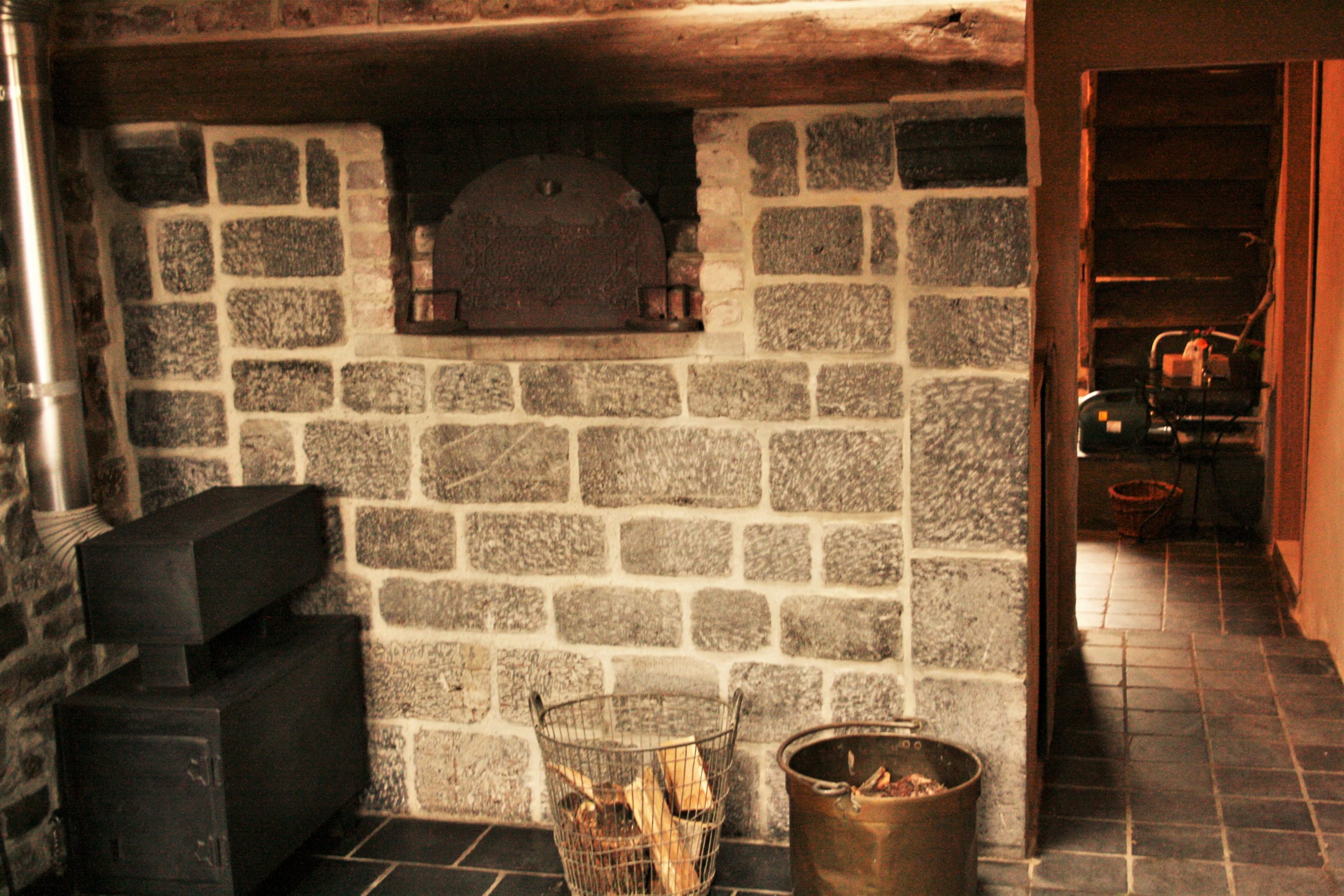 Pizza oven
The entire house is wood-heated (from our own forests, sustainably managed), with a small equipped kitchen.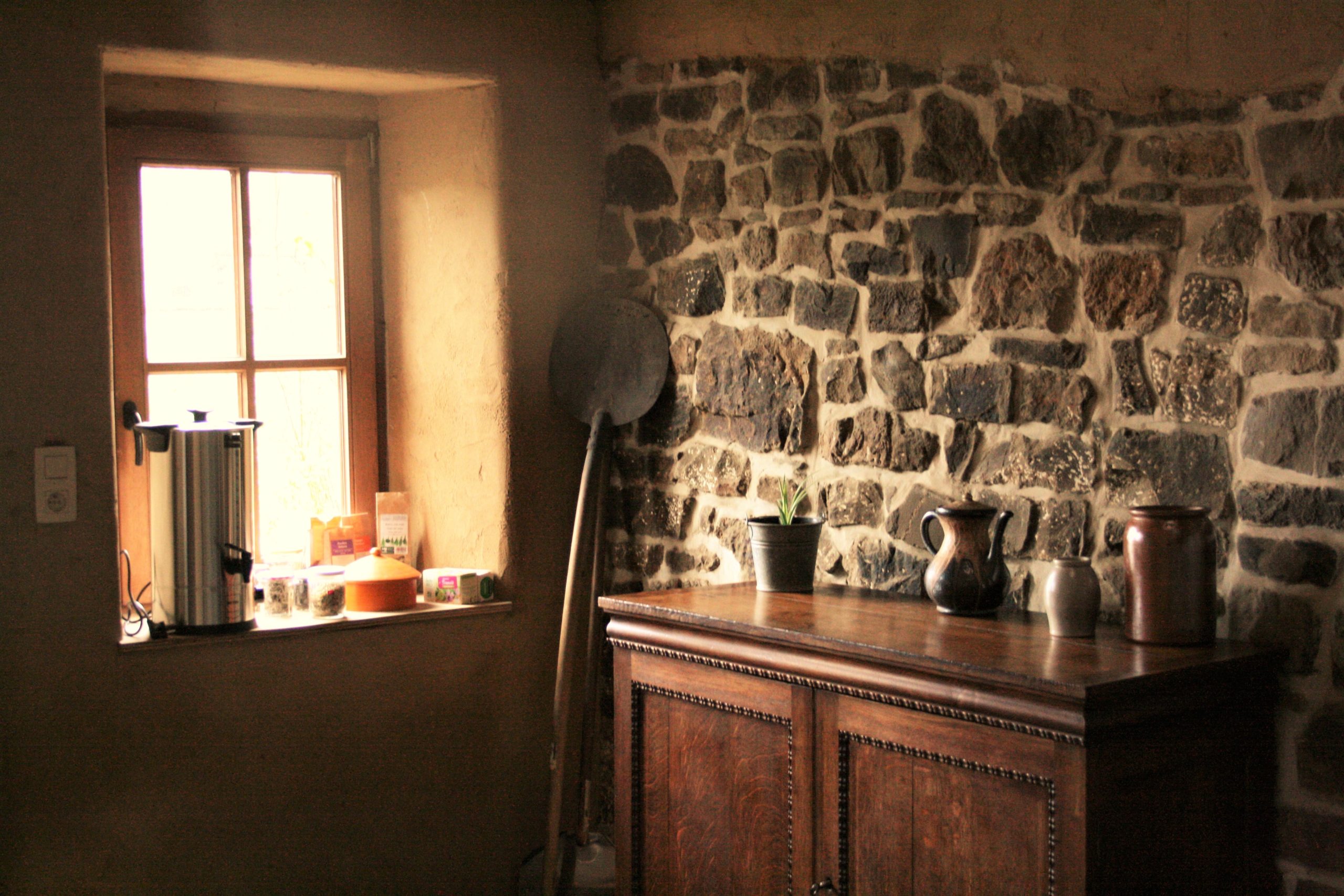 Small kitchen
Electric tea boiling kettle, kitchen equipment (cups, bowls, glasses, plates, cutlery, …) and gas stove with two burners. Round table for four persons. Water is stored in jerrycans with a tap. In the outdoor washing space, there is a tap with hot and cold drinkable water. You can also heat water in an kettle on the wood stove like the old days.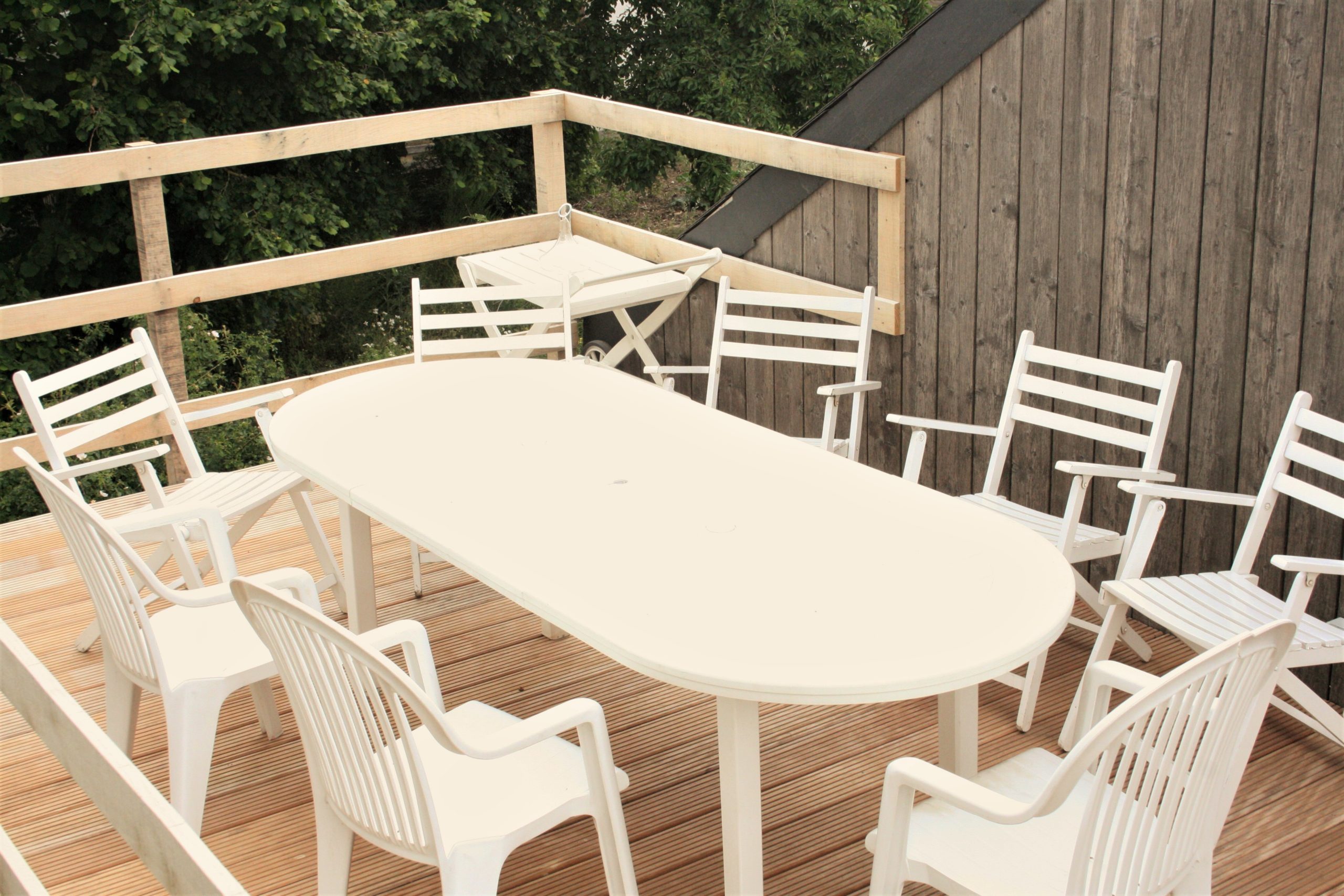 Terrasse
With outdoor table and chairs. Also a great space to practice yoga or meditation outdoors in the mornings.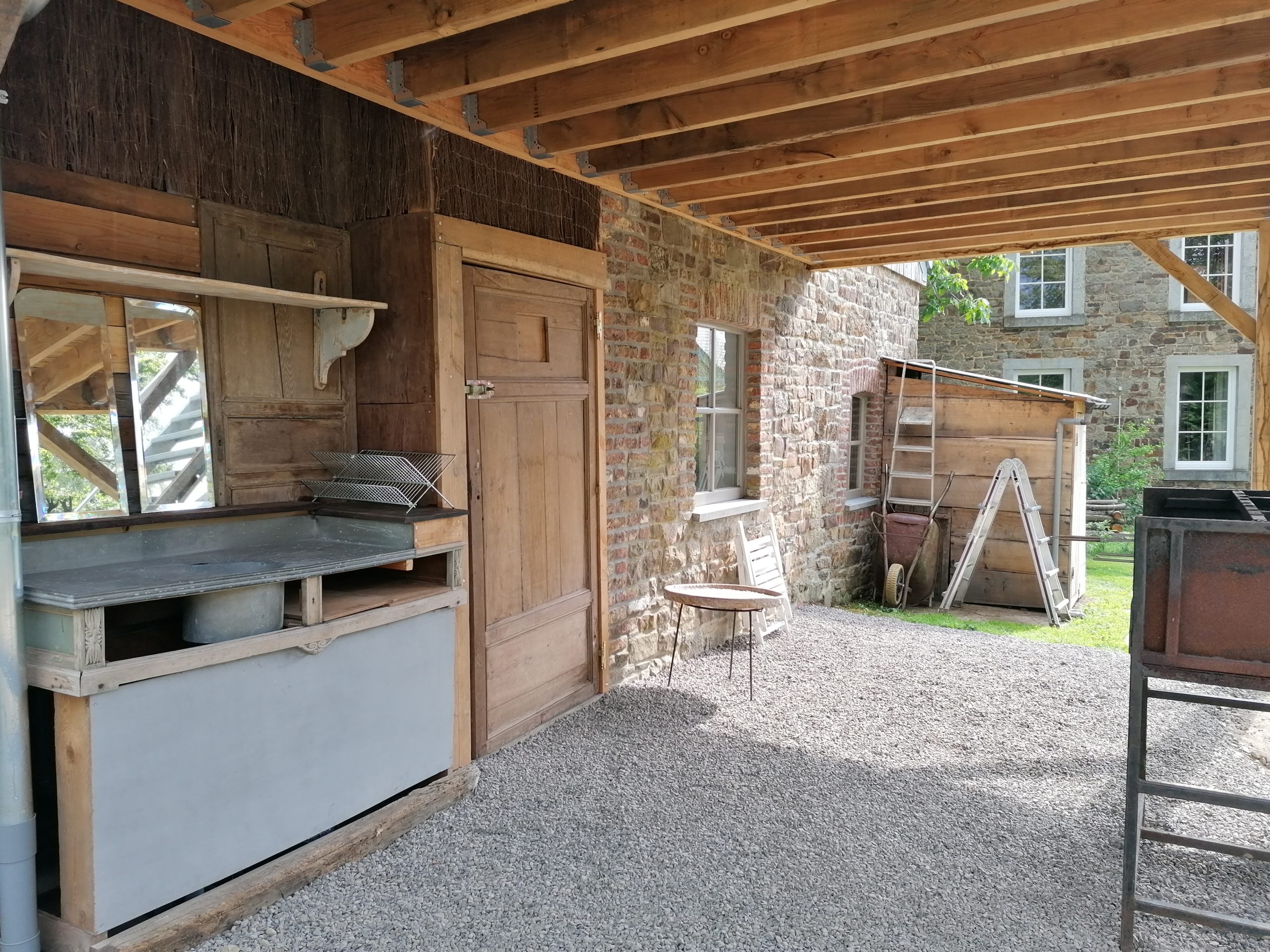 Washing space
An outdoor washing area with a solar hot shower, a sink for washing up and toiletries, a dry toilet and a pee toilet for both men and women. Possibility of taking hot or cold water from the tap.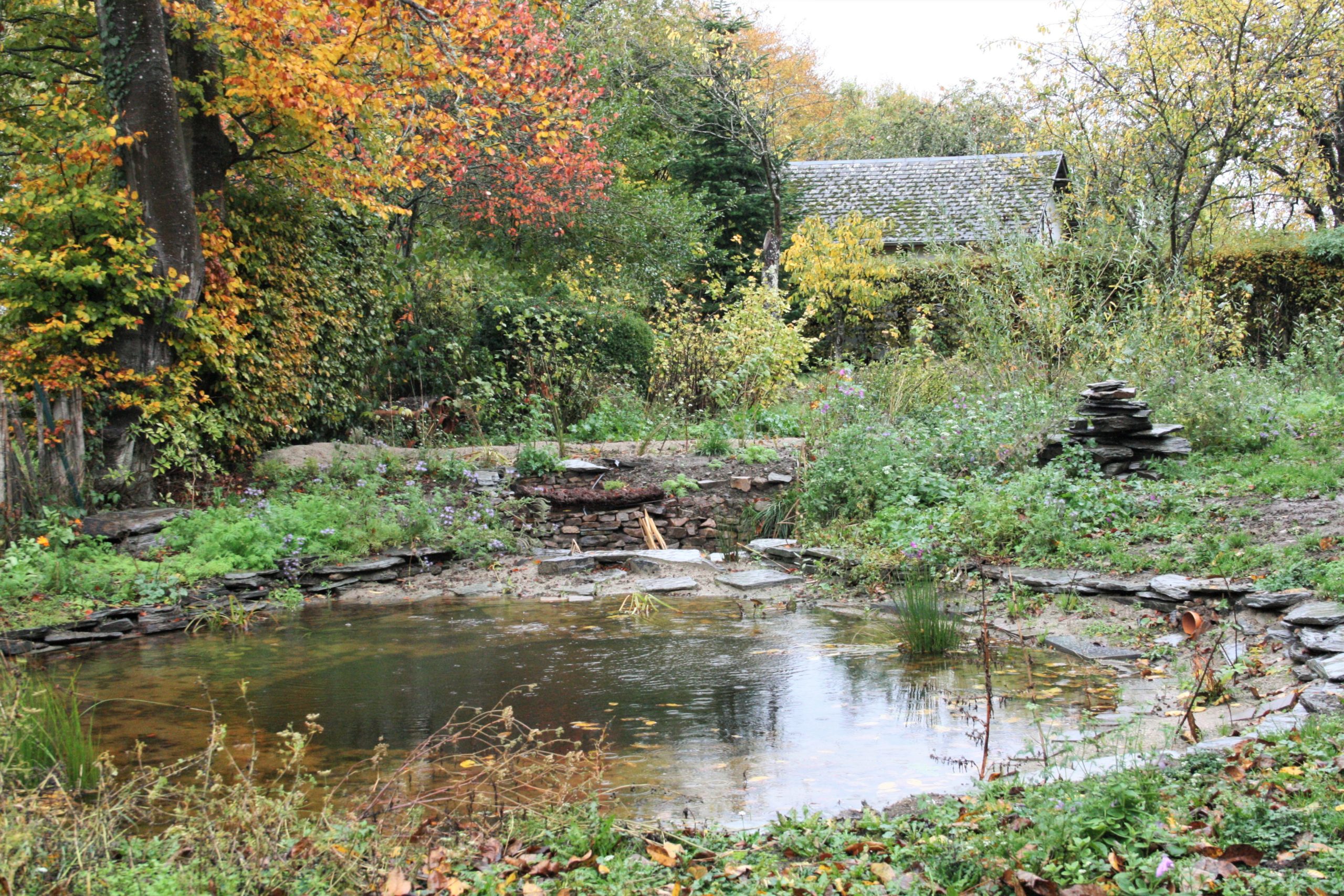 Natural pond
An ecological and natural water pond that collects water from the outside sanitary facilities in green filtering tanks which is filtered by plants and stored in the pond.
Fireplace
For your evenings around the fire. With the possibility of cooking in the cooking pot hanging on the fire, like back in the days.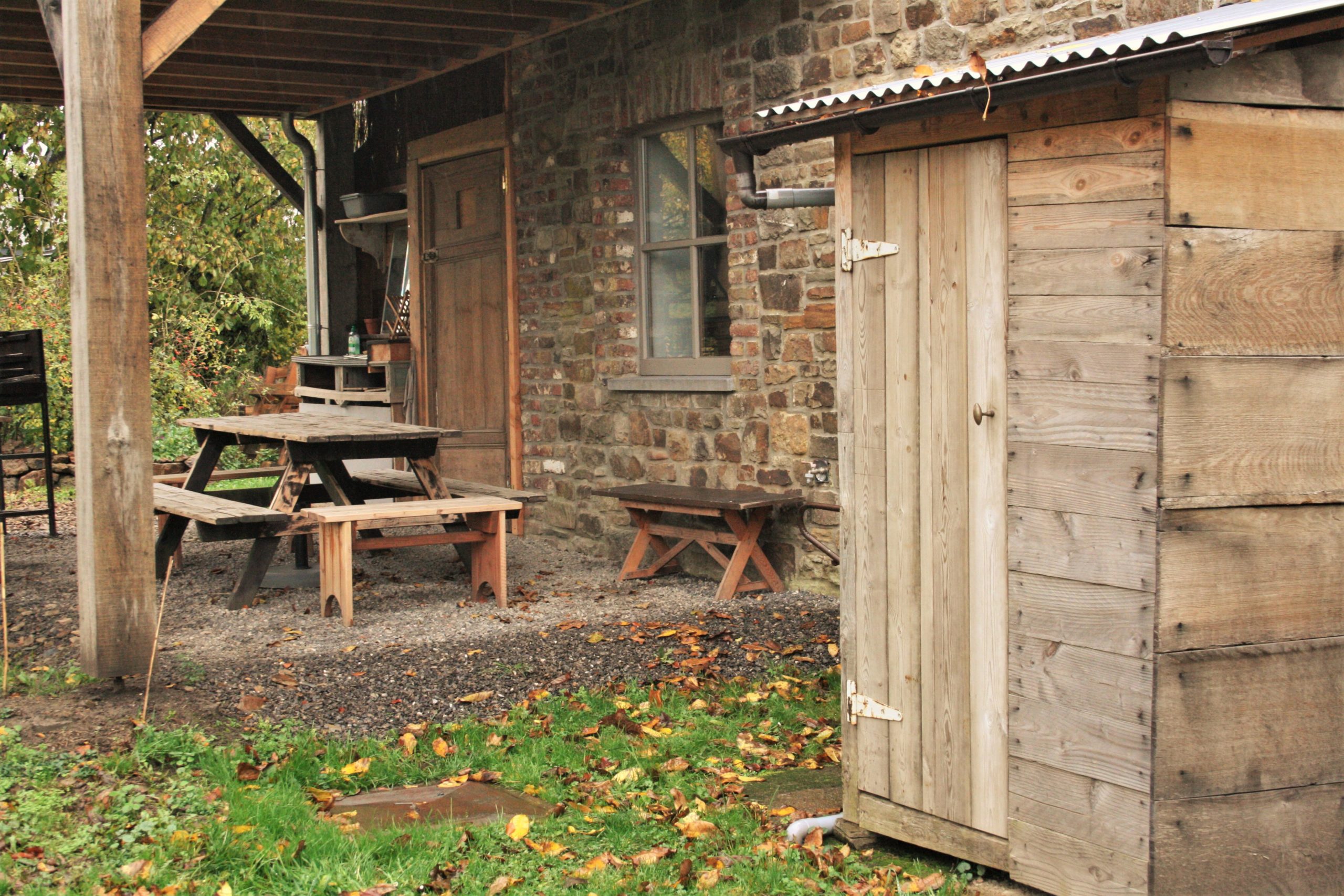 Garden space
With a picnic table and a BBQ in an open space. Surrounded by a beautiful garden with fruits trees, shrubs and vegetables. A relaxing place for smokers.
Venue hire for your retreats and workshops in Nature
In the Earth House is a workshop space for a group of 6 to 12 people (including the accompanying team), with a dry compost toilet and a hot outdoor shower, a dormitory for 4 people (in the workshop space) and one room for 2 people on the ground floor. There is a shared living room in the Old Presbytory, where meals are also served. There is also a bathroom with a shower and toilet and one bedroom for 3 people and one for 2 people on the first floor. In the garden there is also space for 2-3 single tents, for those who prefer to spend the night outside.
The formulas (all prices are VAT excl.)
1 day without overnight stay – 450 euro (only on weekdays)
1 day and one night – 550 euro (only on weekdays)
1 weekend and 2 nights – 750 euro
3 nights – 850 euro 
4 nights – 1050 euro
week with 6 nights – 1350 euro
Adjusted prices for holidays on request (New Year, Easter, Whitsun, Ascension,…)
Preparation of vegetarian or vegan dishes for your group

Full board (breakfast, lunch and dinner, tea/coffee and snacks included): 50 euros per person (excluding VAT), also for the accompanying team.

External guidance or facilitation
– Activities in nature for adults or children

– Guidance on hikes or outings
– Ceremonies and rituals in Nature
– Nature coaching in group
Prices on request. Read more about our skills as facilitators in the Who are we section.


March

2023

Mon
Tue
Wed
Thu
Fri
Sat
Sun
Empty dates are available for renting
Values of the House
In a world where we are reachable most of the time, it can be a real relief when we can disconnect from our phones for a while and connect with the world around us. To enable this, we invite our visitors to reduce the use of their electronic devices during their stay with us. There is no WIFI available in the spaces.
Our goal is to create a welcoming place for you to feel at home. In order to achieve this, we ask visitors to respect the following values:
The place is completely drug-free. Smoking is possible in the garden, at a relaxation area for smokers.
We welcome respectful and open behavior towards each other and the non-human beings around us.
Out of respect for the inhabitants of our village, we
invite you to keep noise to a minimum from dawn and especially during the night of your stays.
Booking and cancellation policy
In order to facilitate the organization of your group stay, a deposit of 50% of the total rental costs will be requested at the time of confirmation (at least 3 months before your arrival). In case of cancellation of your stay, 50% of your deposit will be retained if you cancel between 3 and 2 months before your arrival. Up to a month, 100% of the deposit will be retained. Less then a month before, your deposit will be retained and an extra cost of 25% of your total reservation will be retained  to cover the costs incurred by your cancellation.
Second deposit for food catering: for groups of 8 or more people (including facilitators), there will be a second non-refundable deposit of 3oo euros requested at the moment of your reservation.